Contents:
---
Examples of a releases:
Release Name
: Ultimate Edition 2.3
Architecture
: x86 (32bit)
Code base
: Ultimate Edition 2.2 (Jaunty)
File size
: 2.1 GB (2,268,733,440 bytes)
MD5SUM
: 2ec4d3a0012aa0c999eb0eedc1e24f1e
Release Name
: Ultimate Edition 2.3
Architecture
: 64 Bit
Code base
: Ultimate Edition 2.2 (Jaunty)
File size
: 2.2 GB (2,378,180,608 bytes)
MD5SUM
: de7b5156fd7ec104158e6e401fb88246
Before we even waste a dvd burning it we want to verify that we have downloaded a "good" copy. In linux this is simple open a terminal Applications >> Accessories >> Terminal. Supposing you downloaded it to your desktop & using the 64bit in this example:
cd Desktop
md5sum ultimate-edition-2.3-x64.iso
In windows:
Download MD5summer
If it returns anything different then the above alpha numeric number, you have a bad copy and must re-download it. I highly suggest when you do burn it; you burn it at your drives slowest speed to once again ensure that you have a good copy.
---
Fill in simple description here.
Installation process: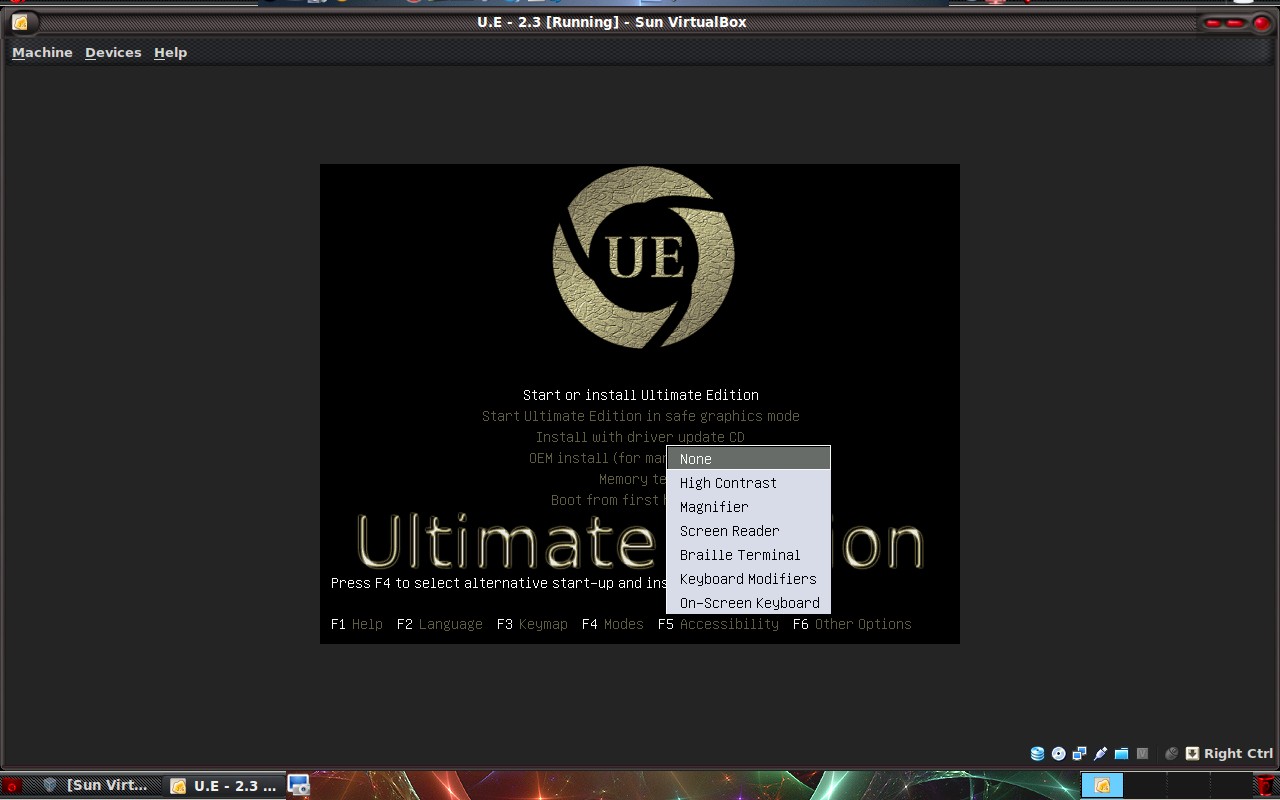 If you have issues such as getting a black screen and not making it to the desktop 2 things to attempt at this stage is pressing F4 and selecting Safemode VGA. Another being F6 acpi=off, as can be seen in screenshot below.
Other options.
USplash.
Initial Desktop.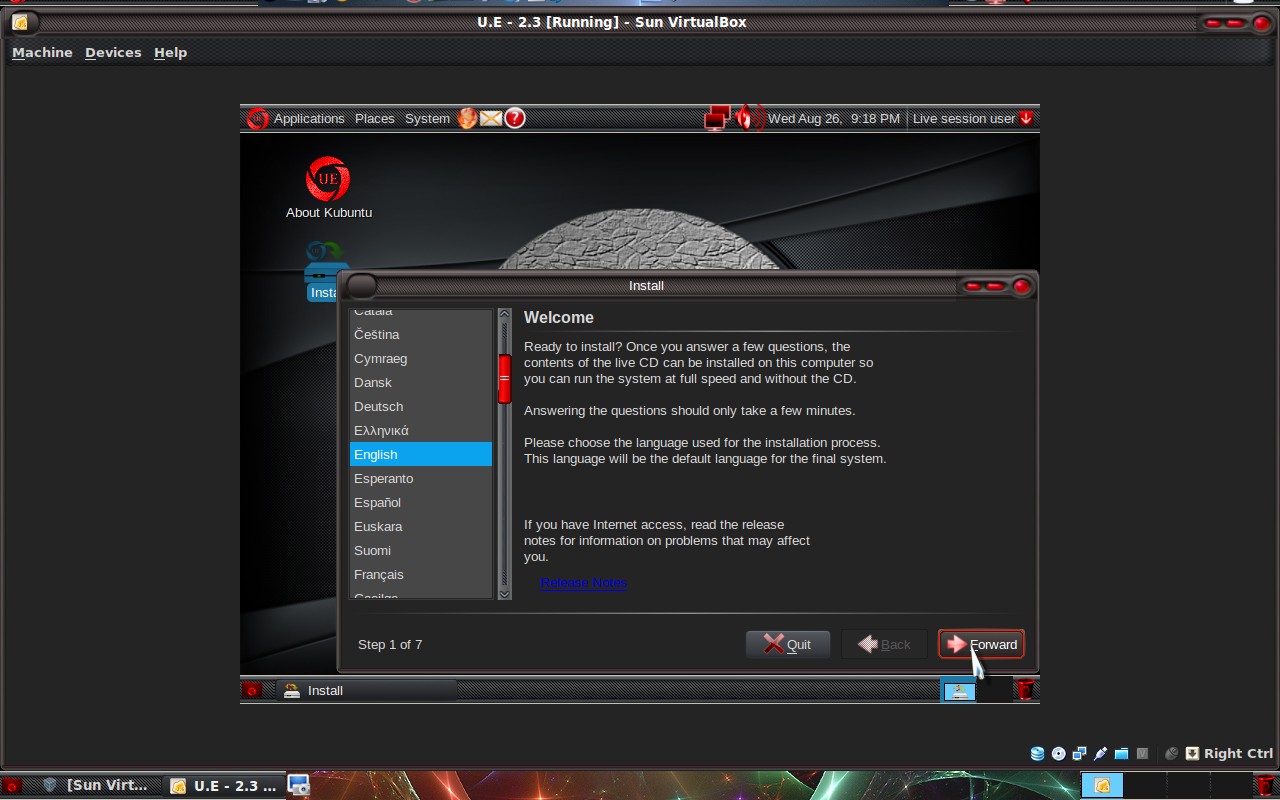 Installation Step 1 of 7 - Language selection.
Installation Step 2 of 7 - Timezone selction.
Installation Step 3 of 7 - Keyboard selection.
Installation Step 4 of 7 - Partioning.
Manual partitioning selected.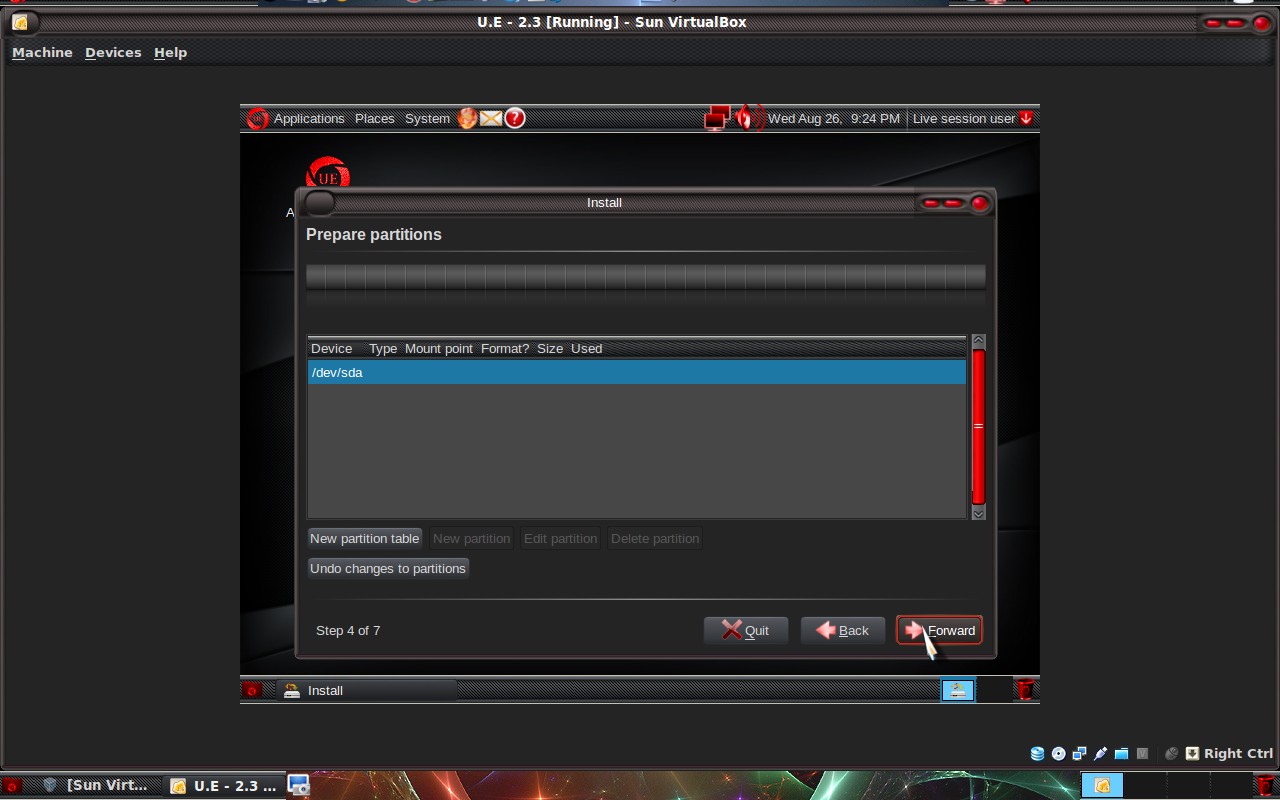 Most users this will be unecessary use whole drive is typical unless you are dual booting windows.
Step 5 and 6 is username entry and importing of windows documents. Installation Step 7 of 7 - Begin installation.
Formatting.
Installation complete.
---
Rebooting.
Login screen (GDM).
Session selection, this is where you choose to goto KDE or gnome if using a odd number distro IE 2.3 of Ultimate Edition.
Action menu.
Language selection.
This should be the first thing you do when you get to the desktop, if you do not want to wait for the O/S to do it proceed to System >> Administration >> Update Manager.
Password entry.
Downloading Updates.
Computer with video card of Nvidia or ATI.
The most important thing to do first with Ultimate Edition is to install your graphics card driver.
STEP 1: Install/Enable Nvidia/ATI drivers
Go to System->Administration->Restricted Drivers Manager and enable the Nvidia/ATI driver.
After installing the graphics card driver. You will have to restart your computer. Hit the enable button on the bottom.
Immediately after the update you will be prompted to restart your computer.
Please do not do anything else on the computer. It is very important to restart the computer. After reboot the card's 3D mode will be working. We can move to the next level to work in an orderly fashion.
Intel graphics card will receive these special explanation for the subject.
DOING THINGS BELOW THIS ARE NOT NECESSARY, however can enhance (Compiz) / make your desktop more secure & provides nice howto's.
STEP 2: Lets Go!
Go to System->Preferences->Desktop Effects, click the 'Enable Desktop Effects' button.
Alternativly:
Right click on your Desktop, change Desktop Background.
Now to increase the number of our working environments.
Now we have 4 workspaces are ready to work with the cube.
Synaptic-package manager.
Enter the password for Root
Software sources - HOW TO
Next we configure the Firewall to be secure. It is important to know, after each restart of the computer / exit you must run it manually to start your Firewall.
Firestarter Configuration:
Now we see That the Firewall works.
Remember always start the Firewall before going to the network. Because if you do not your computer will be vulnerable to hostile attack.
Ubuntu Tweak
Goto System Applications => Third-Party We Hit Unlock=>Enter Root password. We need to mark two more Sources to be synchronize with our System.
1 - Ubuntu Tweak. 2 - Ubuntu-X.
Both these sources inform the next step Update Sources Packages in Synaptic and Apt-get. Causing the Video card to update/Upgrade.
After an update, Go to Package Cleaner. Unlock and Enter your password Root. Mark Select ALL,And hit Clear. That process will Clean the packages that are not Need no more to the System. After the cleaning operation Close the Ubuntu Tweak. And open the Terminal.
And type the following commands:
sudo apt-get update
then:
sudo apt-get upgrade
At this point when you will have Question is you want to upgrade Y-N? Hit-y and Hit the Enter Key.
Now we can see an update databases, Update Packages,Update Drivers
At this time over an update upgrading. you will have to Restart your machine, So the Update/Upgrade will End the process.