Contents:
---
Ultamatix is based off "Automatix", which sold out to Pioneer linux so no such thing anymore. I picked up the source and began continuing development. I love GPL. This tool allows easy access to installing many applications / codecs / games that may not be availible in the "official" Ubuntu Repositories, in a click and install interface. The application is written in 2 languages please see source section of this document for further details.
What it is:
Software installation where it does not exist (repo / license / 0 user knowledge required)
Choice of free software or otherwise.
Automation of the above
Choice of what you would like installed (you build your own O/S)
What it is not:
Software that accepts the license agreement for you.
What it has (143 applications / games):
Ultimate Edition 2.3 theme pack beta - this is for testing purposes
Amarok 1.4 Fast Forward PPA and Amarok 2 Nightly build they can run side by side
Open Office 3
Lanshark - Easy networking tool
XBMC Media Center
libdvdcss2 - DVD Decryption library
Vuze (Azureus) P2P file sharing app
Audacious music player
Realplayer browser plugin support
Torcs game
Volleyball game
S.C.O.R.G.E game
Oolite game
GL-117 game
Gtk atlantic game
Netpanzer game
Nethack game
Blob and conquer game
Google Gadgets
Ubuntu Studio Environment
K3b burning software
PPA repo driven compiz fusion (latest and greatest)
Moaning Goat Meter (MGM)
Termininator (multi-window terminal)
Jedit Editor
Gphpeditor
Abiword
Wifi-support & Wifi Tools
T.V. Capture card software & tools
Blender, Yafray and Inkscape vector based editors
Qemulator, Qemu Virtualization tools
Yakuake Terminal
DeVeDe Dvd movie creator
Lemonrip dvd ripper
Isomaster
Brasero
Kmymoney2
Gnucash
Ktorrent
DVD Styler
ManDVD
Avant Window Navigator & PPA repo driven
Actioncube
Gridwars
Banshee - media player
Lives - Movie editor
Gourmet - Recipe Manager
Anjuta - IDE
Bluefish editor
Glade 3 - Programming GTK
Quanta Plus - HTML editor
BUM - Boot-up Manager
Acetone - ISO Editor
Start up manager
Sysinfo
Ubuntu Restricted Extras and Multimedia Codecs
Media Players and Editors
Adobe Acrobat Reader
Additional fonts, MS fonts, and Red Hat Liberation fonts
Additional archiving tools (rar, unrar, ace, and 7zip, etc.)
Skype
Google Earth
DVD Ripping software
Codecs and Plugins (some unacceptable for use in the US and will prompt you.)
Google Picasa
Wine & Wine doors
NON-FREE w32codecs and DVD codecs (you make this decision)
Nautilus Scripts (many scripts written by me)
SUN JAVA 1.6 JRE and JDK as per your agreement
OpenOffice Clipart
CheckGmail
xDVDshrink
Songbird
Developer Essentials
Microsoft Office OpenXML Translator
RTCW: Enemy Territory
Americas Army Game
Alien Arena 2007 Game
Amoebax Game
AssaultCube Game
ATanks Game
Legends Game
Sauerbraten Game
Frostwire
Atanks Game
Totem-Xine
Fspot
Kino
DeVeDe
Extra Fonts
Nexuiz
Glest
Tremulous
Wesnoth
Open Arena
Warsow
Boswars
Vdrift
BzFlag
Screenlets
Gdesklets
Ubuntu Tweak
Amarok 2 Neon (alpha)
More to follow
Orbital Sniper
Chess Games
Neverball
Urban Terror
Vegastrike
Tile Racer
Scorched 3D
FooBillard
Wormux
World Of Padman (WOP)
Frozen Bubble
Flightgear
Freecol
Globulation 2
Adobe flash player 10 and works in 64bit...
Pingus Game
UFO: AI
Warzone 2100
Dark Oberon
Firefox Mplayer Plugin
NTFS Read / Write Support
K9 Copy
AMSN Chat Client
Pidgin
KVirc
Extra Themes
Chromium
Dragon Player
Amarok
Transmission torrent client
VLC Media player
DVD Styler
ManDVD
Actioncube
Banshee - Media player
Anjuta - IDE
Bluefish editor
Glade 3 - Programming GTK
Quanta Plus - HTML editor
Screem - HTML editor
Firestarter - Firewall
BUM - Boot-up Manager
KDE 3 Environment (Experimental)
XUbuntu Environment (Experimental)
Edubuntu Environment (Experimental)
Ubuntu Studio Environment (Experimental)
and adding......
Here are a few screenshots for you of this mighty software. Enjoy !!!
INSERT DESCRIPTION HERE
INSERT DESCRIPTION HERE
INSERT DESCRIPTION HERE
INSERT DESCRIPTION HERE
INSERT DESCRIPTION HERE
INSERT DESCRIPTION HERE
INSERT DESCRIPTION HERE
INSERT DESCRIPTION HERE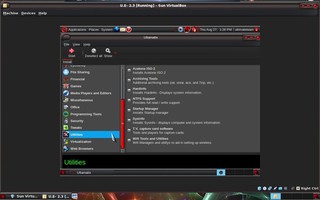 INSERT DESCRIPTION HERE
INSERT DESCRIPTION HERE
INSERT DESCRIPTION HERE
INSERT DESCRIPTION HERE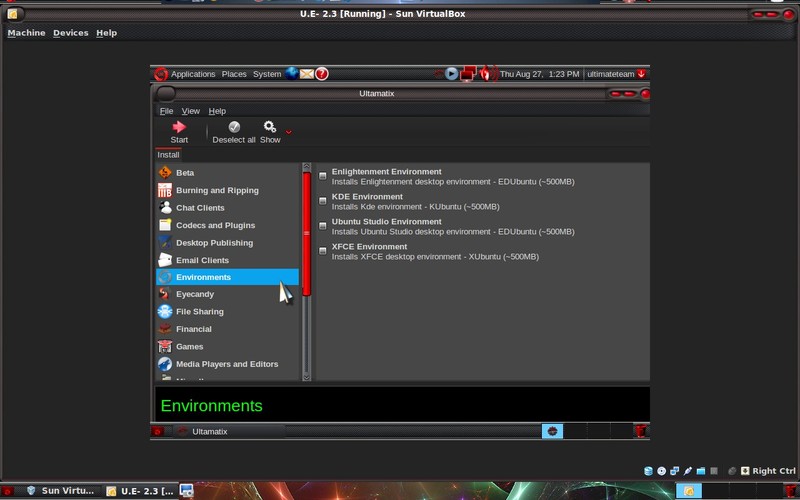 To install any software through Ultamatix all you have to do is select the software from the list on right and click Start and magic starts...Ultamatix will automatically download software, resolve dependencies, resolve conflicts and install it for you. Just start using software after selecting it from the gnome menu.
Try Ultamatix to truly enjoy and trust this amazing piece of software. It makes Linux far more enjoyable and super easy and you get best of all worlds. Try it to believe it...
- Enjoy Ultamatix -